10 Best Games Like Zombie Driver HD You Should Try in 2022
Trying to find games like Zombie Driver HD? Try these 10 great games that are similar to Zombie Driver HD, but stand out in their own awesome ways. This is a comprehensive list of best games like Zombie Driver HD that have been tried, tested and recommended.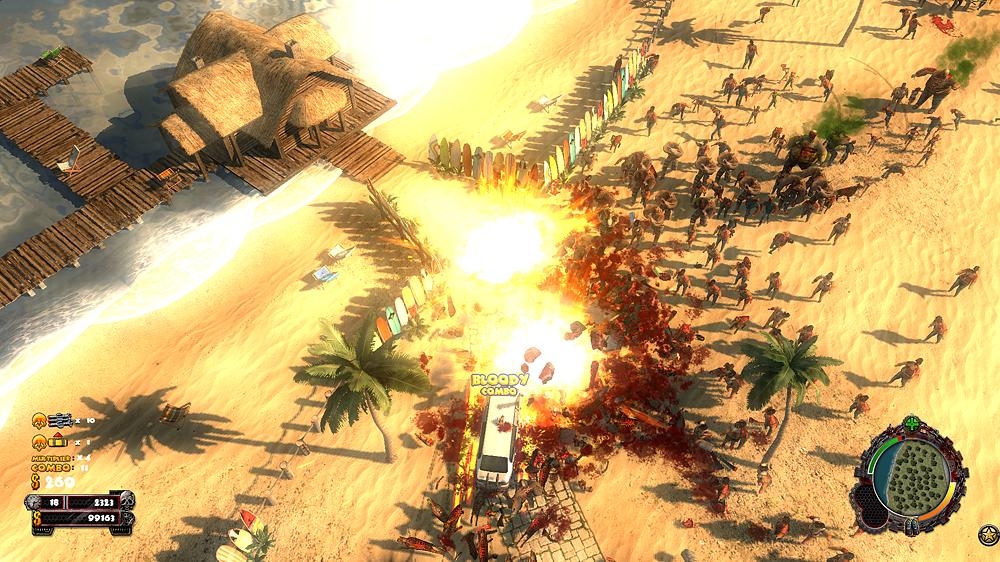 Content:
Best Games Like Zombie Driver HD
10 Best Games Like Zombie Driver HD You Should Try in 2022 Deadlight,Dead Rising,Just Cause 4,Painkiller Hell & Damnation,Wreckfest,Sir, You Are Being Hunted,BlazeRush,Guns n Zombies,Zombie Defense,VERSUS SQUAD
Genre: Action, Indie, Platformer,
Platform: PC, Xbox 360,
Deadlight is a side-scrolling survival platformer with horror elements set in a post-apocalyptic 2.5D environment of Seattle. The game follows a former park ranger Randall Wayne, who tries to get to a safe zone located in the city, where he hopes his family will be waiting for him. Thus, he has to move across Seattle to reach his final destination. On his way, Randall, in control of players, should avoid both zombies and members of self-proclaimed local authority gang called New Law. The game is...
Genre: Action,
Platform: PC, Xbox One, PlayStation 4, Xbox 360,
Dead Rising was a specific iteration of an open world action horror game that is considered to be a beat 'em up. The difference is that it's a zombie survival with horror elements and crafting mechanics. The protagonist, Frank West, is sneaking into the Willamette to gather information on the reasons why is it being sealed by the National Guard. After landing on the roof of the big shopping mall, Frank asks the pilot to pick him up in 72 hours. Inside Frank learns of a massive zombie outbreak,...
Genre: Adventure , Action,
Platform: PC, Xbox One, PlayStation 4,
Just Cause 4 is the fourth game in the action series that follows the same protagonist, mercenary Rico Rodriguez. The game is powered by an updated version of the APEX engine.
Plot
The game takes place in the near future in Solis, a fictional country in South America. There, Rico Rodriguez engages in a fight with the local mercenary organization called Black Hand that was already featured in the first Just Cause game. The new Black Hand gang leader is Gabriela. Rodriguez explores the jungle, beaches,...
Genre: Action, Shooter,
Platform: PC, macOS, Linux, Xbox 360, PlayStation 3,
Painkiller Hell & Damnation is a first-person shooter, a remake of Painkiller, that continues its events. The game ignores almost all expansions to the original title, except for Battle Out of Hell. The remake got new monsters, changed game balance and a coop mode with a female teammate.
The game introduces a brand new story. In the beginning Death makes a deal with the protagonist, Daniel Garner that she will return his dead wife in exchange for 7,000 souls. From this moment the action begins,...
Genre: Action, Arcade, Sports, Simulation, Racing, Indie,
Platform: PC, Xbox One, PlayStation 4,
Wreckfest is a demolition derby themed racing game with soft-body damage modeling, sophisticated driving dynamics and in-depth vehicle upgrading, featuring both demolition derbies and more traditional track races. It's all about fun, breakneck racing and over-the-top crashes....
Genre: Adventure , Action, Indie,
Platform: PC, macOS, Linux,
Known also under the alternative name "Madam, you are being hunted", the game is a mixture of survival horror and the open world exploration. The game has a singleplayer mode, where players alone try to escape from the robots and do the same together with friends in the multiplayer mode. All actions are performed from the first person perspective.
Players need to escape from Hunters, robots dressed like victorian-age gentlemen and their assistants: robodogs or worse. Robots must find and kill...
Genre: Action, Racing, Indie,
Platform: PC, PlayStation 4, macOS, Linux, Nintendo Switch, PlayStation 3,
BlazeRush is a dynamic arcade racing survival game with no health, no levelling and no brakes!You can assemble a team of friends to play in local or online multiplayer, choose a car to your taste and chase, blow up and cut off!Adapt your style and tactics to new enemies, obstacles and tracks.Welcome to the World Of Racing and Frantic Fun!key Features:Simple multiplayer. Up to 4 players locally and up to 8 players over the Internet;Couch vs. couch. Start races with local players;Connect to the game...
Genre: Adventure , Action, Role Playing, Indie,
Platform: PC, macOS,
An artificial nano-virus has wiped out humanity almost completely turning all humans into a mob of deadly mutilated zombies. Only a few people managed to survive and you are one of them!

The main features of the game:
- HORDES of ZOMBIES!
- A fresh look at a zombie apocalypse story
- Robotized zombies infected by a nano-virus
- Lots of enemies who are different from each other not only in their appearance but also in behavior
- Random gameplay generation: each battle is different
- Several...
Genre: Action, Casual, Strategy, Indie,
Platform: PC, iOS, macOS, Linux, Wii U,
Today, 7 billion humans live on our planet.
Over 100 billion lived and died on it in the past.
What if just a tenth of them came back... for us?

A modern hybrid of the classic RTS and modern Tower Defense.
Recruit soldiers, place them on slots and let them shoot incoming waves of zombies by their own.
Manually move soldiers between slots, upgrade slots and soldiers, order supplies,
throw grenades and molotovs, order airstrikes and operate huge bulldozers.
Perfect mix of strategy, tactics...
Genre: Action, Indie,
Platform: PC, macOS,
Versus is a fast action twin-stick shooter from the creator of Nation Red. Create your own sandbox defense before doing battle with thousands of enemies in fast-paced top down combat. Face up to a dozen bosses. Simultaneously. Play in single player, on-line or local coop with up to 4 players.

Set up your player class, attributes and weaponry, then choose your map setting and build barricades, tactically place explosives, sentry guns, ammo and medical kit stockpiles, weapon stations and more.

Build...
What is the plot of Zombie Driver HD?
Developer: Exor Studios
Publisher: Nordic Games GmbH, Exor Studios
Platforms:PC, Xbox 360, PlayStation 3,
Genre: Action, Racing, Indie, Shooter,
Zombie Driver HD is a single-player action game, combining elements of shooter and racing. The events set in a zombie apocalypse environment.
Modes
There are three game modes. The first one is a classical story mode.
You play as a taxi driver, who is doing his work when the virus appears. You need to get to the military checkpoint, where you have to complete different missions: picking up survivors around the city, transporting something or even killing. You have to fight with the bosses – substantial mutated zombies. In the second mode, Blood Race, the player enters the brutal race. You can chase the cars and take them down. There are three distinct game types: classic race; eliminator, where the player needs to take down cars as many as he can; the endurance, in which you need to race with a ticking bomb in your vehicle. The last one is Slaughter. You try to survive on different arenas as long as you can.
Gameplay
As for the vehicles, there are 13 types of driving. It includes a fire truck, bulldozer, and tank.
Every vehicle feels different, so you can taste it and choose the most convenient one. Upgrading the vehicle on the fly is possible. The game offers the variety of weapons. You can burn zombies with flamethrowers or attack with the launcher. You fight with crowds of zombies at a time, especially in the Slaughter mode. The types of enemies can be unusual: there are zombies dogs, for instance. Medical drops, scattered around the city, can help to manage your health.
↓ READ MORE