50 Best Games Like The Order: 1886 You Should Try in 2022
Trying to find games like The Order: 1886? Try these 50 great games that are similar to The Order: 1886, but stand out in their own awesome ways. This is a comprehensive list of best games like The Order: 1886 that have been tried, tested and recommended.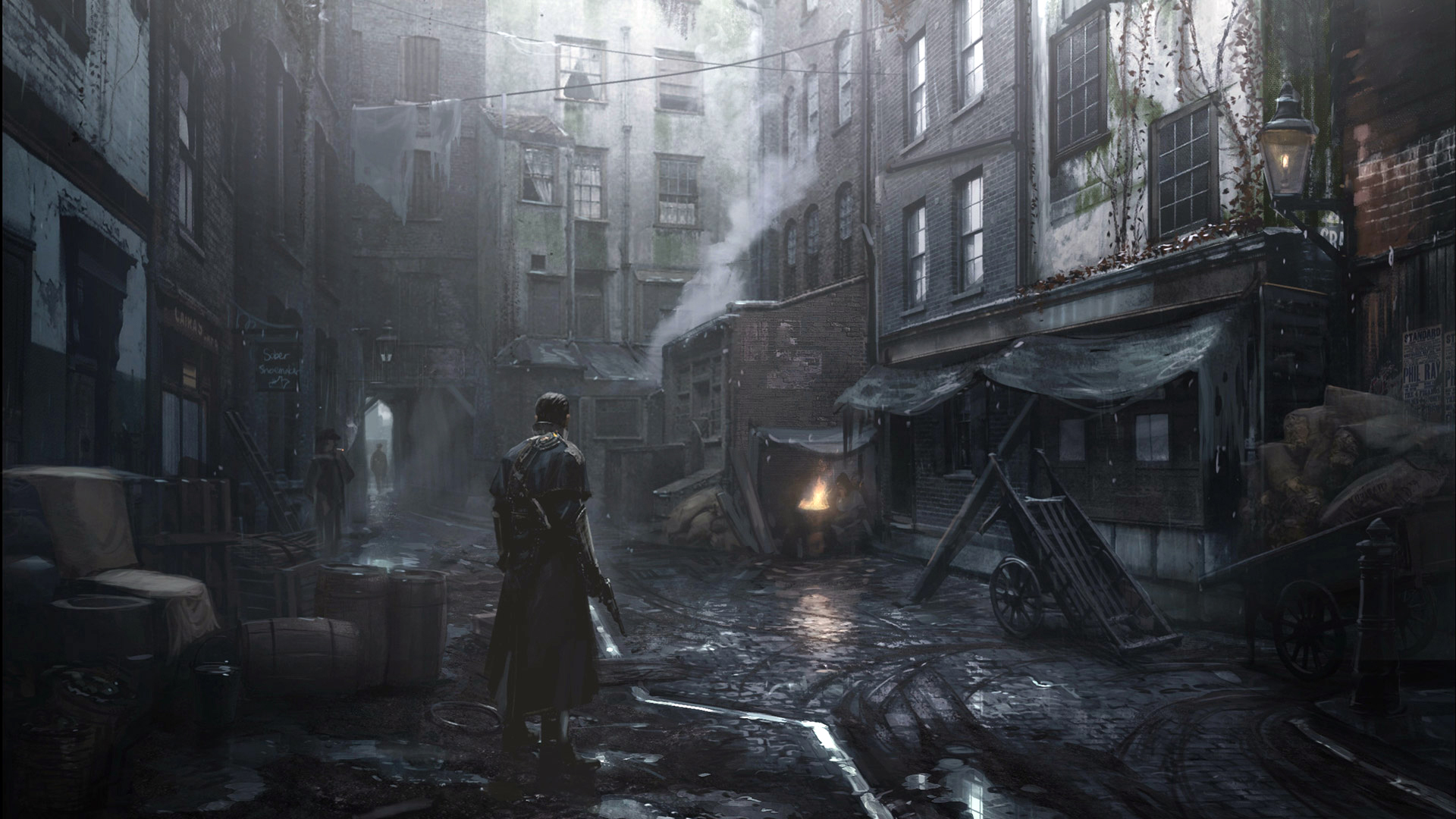 Content:
Best Games Like The Order: 1886
50 Best Games Like The Order: 1886 You Should Try in 2022 Mass Effect 2,Batman: Arkham Asylum,Battlefield 1,Max Payne 3,Resident Evil 5,Deus Ex: Human Revolution - Director's Cut,Thief,Warhammer 40,000: Space Marine,Deus Ex: Game of the Year Edition,RUINER
Genre: Action, Role Playing,
Platform: PC, Xbox 360, PlayStation 3,
Mass Effect II is a sequel to Mass Effect one, following the story of Captain Shepard in his or her journey in saving the Galaxy from Reapers. Just after the fight against Saren, Shepard dies and drifts in open space. Being collected by Cerberus and the lead man, The Illusive Man, Shepard has to investigate attacks on human colonies around the Milky Way, and discover that now the Reapers using some new insectoid called the Collectors.
You can choose from different classes to play, for example, a...
Genre: Adventure , Action, Platformer,
Platform: PC, Xbox One, PlayStation 4, macOS, Xbox 360, PlayStation 3,
Batman: Arkham Asylum as an action-adventure game developed by Rocksteady Studios. It is the first installment in the Batman: Arkham series which is based on Batman comic series.
Batman successfully captures Joker and transports him to the Arkham Asylum on the Arkham Island. Batman suspects Joker of surrendering intentionally hence why the hero decides to escort Joker personally. Joker breaks away from the security frees all the inmates and captures the asylum. Batman sets out to restore order in...
Genre: Action, Shooter,
Platform: PC, Xbox One, PlayStation 4,
Battlefield 1 is a first-person action shooter set in the historical period of the World War I. Although the game is a part of the Battlefield franchise, it has no references to the previous chapters. Players are able to experience both single and multiplayer mods to get in action and to feel the era better. As a single-player campaign, Battlefield 1 offers 6 storylines (chapters) one following each other. Each consists of several missions and tells a story of a single man in the middle of a global...
Genre: Action, Shooter,
Platform: PC, macOS, Xbox 360, PlayStation 3,
In Max Payne III we see Max from a new perspective. Taking place nine years after the second game, Payne left the police department in New York and now serves as a private security contractor in São Paulo, Brazil. Guarding the Branco family - Ricardo, Victor and Marcelo, everything turns into a disaster when a local street gang kidnaps Ricardo's wife. In attempt saving Ricardo's wife, another outlaw involves. In the end, Max has to infiltrate the gang to save Fabiana and perform some justice.
Even...
Genre: Action, Shooter,
Platform: PC, Xbox One, PlayStation 4, Nintendo Switch, Xbox 360, PlayStation 3,
Resident Evil 5 (also known as Biohazard 5 in Japan) is the third-person shooter with elements of a survivor-horror game. This is the fifth main installment in Capcom's acclaimed franchise Resident Evil.
The story follows Chris Redfield, the protagonist of the original Resident Evil, and his partner Sheva Alomar. As the members of the Bioterrorism Security Assessment Alliance, they are tasked to intercept an illegal bioweapon trade in Kijuju, Africa. Upon arrival, they find out that Kijuju is...
Genre: Action, Role Playing, Shooter,
Platform: PC, macOS, Xbox 360, PlayStation 3, Wii U,
The future is now and the year is 2027. You play Adam Jensen, an ex-SWAT specialist hired to oversee the security needs of Sarif Industries one of America's most experimental biotechnology firms. When a team of black ops mercenaries attack Sarif's headquarters killing the very scientists you were hired to protect, everything you thought you knew about your job changes. After being mortally wounded during the attack, you have no choice but to undergo radical life-saving surgeries that transform...
Genre: Adventure , Action,
Platform: PC, Xbox One, PlayStation 4, iOS, macOS, Xbox 360, PlayStation 3,
Thief is a stealth-action game, the 4th installment in the Thief series and the first game since 2004 Thief: Deadly Shadows. The game was made as an attempt to reboot the franchise.
Just as previous entries, the game takes place in the dark fantasy world with notable steampunk and Victorian era influence. You play as Garrett, the master thief who awakens after one-year slumber caused by accident in one of his missions. He finds out that his hometown is plagued by a mysterious disease "The Gloom."...
Genre: Action, Shooter,
Platform: PC, Xbox 360, PlayStation 3,
A millions-strong Ork horde has invaded an Imperial Forge World, one of the planet-sized factories where the war machines for humanity's never ending battle for survival are created. Losing this planet is not an option and be aware of the far more evil threat lurking large in the shadows of this world.
DEVASTATING WEAPONRY
Experience 40,000 years of combat, evolved. Enhance your vast arsenal as you unlock new weapons, upgrades, armor & abilities through an accessible progression system. This...
Genre: Action, Shooter,
Platform: PC,
Deus Ex is a first-person shooter made in a cyberpunk style. Mostly, all the action of the game takes place in the dark to the loud and evocative soundtrack.
The year is 2052. There is complete chaos on the Earth: economic disasters, governments are gradually beginning to weaken. There are a lot of active terrorist groups and the epidemic of an incurable disease - "Gray Death". You play as a special agent of the organisation, which was designed to stop the evil plans of terrorists as soon...
Genre: Action, Indie, Shooter,
Platform: PC, Xbox One, PlayStation 4, macOS, Linux,
RUINER is a top-down shooter developed by Reikon Games.
Plot
RUINER is set in a cyberpunk world. The year is 2091. The action takes place in a city of Rengkok, most of which is owned by Heaven conglomerate that is ran by a man, who is referred to as the Boss. The main character, who is dubbed as Puppy is led by a rogue hacker named Wizard to kill the Boss, but their connection is hijacked by another hacker, known as Her, who reveals that Wizard's been taken by the conglomerate. Puppy sets out...
Genre: Action, Shooter,
Platform: PC, Xbox One,
From one of gaming's most acclaimed sagas, Gears is bigger than ever, with five thrilling modes and the deepest campaign yet. With all-out war descending, Kait Diaz breaks away to uncover her connection to the enemy and discovers the true danger to Sera – herself.
*Xbox Live account required. Visit www.gears5.com for additional information....
Genre: Action, Indie,
Platform: PC, Xbox One, PlayStation 4,
This multiplayer-only game based on the popular Warhammer Fantasy franchise is set in the End Time era of this setting. The plot is centered around the city of Ubersreik that was recently taken over by a horde of rat-like monsters called Skavens. The players, who can team up in groups of up to four, are tasked with cleaning the streets from the dirty invaders. There are thirteen levels with different objectives, some of which involve collecting certain items or protecting a city well from being poisoned.
The...
Genre: Adventure , Action,
Platform: PC, Xbox 360, PlayStation 3,
This sequel to American McGee's Alice follows the protagonist, Alice Lidell, as she returns to the dark world of her subconsciousness, the nightmarish version of Lewis Carrol's Wonderland. After she was released from the psychiatric asylum, Alice moved to the orphanage, where she's being treated with the use of hypnosis. It doesn't stop her from descending again into the grotesque realm of disturbing visuals, creepy music, and absurdist logic. She will again meet the Cheshire Cat, the...
Genre: Adventure , Action, Shooter,
Platform: PC, Xbox One, PlayStation 4,
Homefront: The Revolution is an open-world FPS developed by Dambuster Studios. It is the second game in the series.
Plot
In 1972, a technological marvel emerged in North Korea. The APEX corporation was found. Sometime later, the North Korean technologies become more widespread than the US. In 2004 the United States began to buy its weaponry from Korea. By 2016 the United States economy is at an all-time low, the US invade the Middle East. In 2025, the US debt to North Korea grows too immense to be...
Genre: Adventure , Action,
Platform: PC, Xbox One, PlayStation 4,
Sherlock Holmes: The Devil's Daughter is a detective game created by Frogwares. It is the direct continuation of Sherlock Holmes: Crimes and Punishments - another game made by the same studio and is the eighth part of a series.
Plot
Five cases are present in the game. These cases are detective stories, that are linked with each other and continue the stories of the previous Sherlock Holmes games. The game follows Sherlock Holmes and his companion, Doctor Watson, and their daily lives solving...
Genre: Action, Indie, Shooter,
Platform: PC,
Serious Sam: The Second Encounter is the second and last episode of well-known video game Serious Sam. It starts right there where The First Encounter ended. Sam is going to Sirius with SSS Centerprice starship but Crotem crate-but accidentally hits Centerprice and it falls down to Earth, in Central Amerika in the Mayan age. Lucky Sam, the Sirians left a starship on Earth in case SSS Centerprice couldn't make it. Not so good news - that this back-up starship is located in a different era and time,...
Genre: Action, Simulation, Indie,
Platform: PC, macOS, Linux,
Guns of Icarus Alliance is an extended player versus environment edition of Guns of Icarus Online, a player versus player multiplayer FPS. It contains Set in a steampunk world, the game is focused on airship combat where you take the role of a member of a four-player team. Every player is responsible for their part of the ship and needs to perform different functions. The game features all content from the original game, including PvP mode.
There are three classes in the game: Pilot, Gunner or Engineer....
Genre: Adventure , Action,
Platform: PC, Xbox One, PlayStation 4,
Assassin's Creed Chronicles: China is the part of the Chronicles series. It is the first installment out of three in total with the other games being dedicated to India and Russia.
Gameplay
The game is the two-dimensional platformer with the agile camera which can be tilted. Such titles are also called 2,5D platformers. The protagonist encounters waves of enemies, and the player chooses between the various weaponry to deal with them. There are also parkour elements: one climbs ledges, jumps onto...
Genre: Adventure , Indie,
Platform: PC, macOS, Linux, Nintendo Switch,
The Red Strings Club is a cyberpunk narrative experience about fate and happiness featuring the extensive use of pottery, bartending and impersonating people on the phone to take down a corporate conspiracy.
The professed altruistic corporation Supercontinent Ltd is on the verge of releasing Social Psyche Welfare: a system that will eliminate depression, anger and fear from society. However, the bartender of a clandestine club and a freelance hacker don't regard this evolution as an improvement...
Genre: Adventure , Action, Indie,
Platform: PC, Xbox One, PlayStation 4, macOS, Linux,
Dreamfall Chapters is an episodic game of five chapters. It's a direct sequel to Dreamfall: The Longest Journey and follows its protagonist Zoe Maya Castillo who has the power to control dreams. The game is set in two world - Stark and its magic clone Arkadia. The story starts with Zoe, captured and comatose, trying to escape from the World of dreams she is trapped in. Instead, she creates another body that doesn't remember anything and starts a new life.
Dreamfall Chapters is heavily focused...
Genre: Action, Role Playing,
Platform: PC, Xbox One, PlayStation 4,
Cyberpunk 2077 is a science fiction game loosely based on the role-playing game Cyberpunk 2020.
Setting
The game is set in the year 2077 in a fictional futuristic metropolis Night City in California. In the world of the game, there are developed cybernetic augmentations that enhance people's strength, agility, and memory. The city is governed by corporations. Many jobs are taken over by the robots, leaving a lot of people poor and homeless. Night City has a roaring underworld, with black markets,...
Genre: Action, Role Playing, Indie, Shooter,
Platform: PC,
E.Y.E: Divine Cybermancy is an action RPG with shooter elements and a cyberpunk setting. You take on the role of a warrior monk, genetically upgraded and possessing psionic abilities. The in-game world is split by two forces that want to take the control over. You need to choose the side, however, you can't trust anyone, even your closest friends and teachers. The game has different endings depending on your choices.
The protagonist is fully customizable. You can upgrade his abilities according...
Genre: Action, Shooter,
Platform: PC, Xbox 360, PlayStation 3,
Lost Planet 3 is an action third-person shooter developed by Spark Unlimited. It is the first game in the Lost Planet series timeline.
Several colonists and miners are sent to a planet of E.D.N. III by a company called NEVEC. You play as a miner named Jim that works for NEVEC. All the mined resources are sent back to Earth. Jim unravels the secrets of the corporation Throughout the story.
The game features giant mining mech rigs that are upgradeable to some degree. Players can also upgrade their...
Genre: Action, Shooter,
Platform: PC, PlayStation 4, PS Vita,
PixelJunk Shooter Ultimate edition includes PixelJunk Shooter and PixelJunk Shooter 2. Corresponding to the PixelJunk series, Ultimate covers the forth and the fifth parts of the franchise, consisting of 10 titles overall.
Remastered version
The refreshed version brings out the new mode of the same name: Ultimate, which changes design style of the game. The players can choose between Classic and Ultimate. It is also known that now progress can be transferred between the two parts of the original...
Genre: Adventure , Action,
Platform: PC, Xbox One, PlayStation 4, Xbox 360, PlayStation 3,
The popular stylish action games Devil May Cry, Devil May Cry 2, and Devil May Cry 3 Special Edition return in one collection! As Dante, the ultimate devil hunter, you'll join forces with appealing characters such as Trish, Lady, and Lucia and enjoy incredible action for the first time in blistering 60fps.
Devil May Cry: The first appearance of Dante, the ultimate devil hunter! With the blood of a legendary demon warrior flowing through his veins, Dante takes on the king of the underworld, Mundus.
Devil...
Genre: Adventure , Action,
Platform: PC, Xbox, PlayStation 2,
Play as Trane, a "toy" graffiti artist with the street smarts, athletic prowess and vision to become an "All City King" - the most reputable of all graffiti artists. Along your quest, uncover the mayor's deep, dark secret and use your fighting talents and high-wire graffiti to expose the city's leader as a corrupt tyrant. As you struggle to save a neighborhood from an oppressive government, one question stands out: What if graffiti could change the world? Risk your life...
Genre: Adventure , Action,
Platform: PC, Xbox One, PlayStation 4,
The acclaimed First-Person Shooter returns fully upgraded, and more beautifully challenging than ever. Hard Reset Redux is a brand new version of the cyberpunk classic that includes all the content of previous editions, and adds new improved gameplay, enhanced visuals and additional content to make this the Definitive Edition of Hard Reset.Hard Reset Redux is an action-packed and hardcore single-player shooter which embraces the best qualities that the genre has it offer. It includes over-the-top...
Genre: Action, Shooter,
Platform: PC, Xbox One, PlayStation 4,
Blue Estate is a darkly funny on-rail shooter based on the comic books from Viktor Kalvachev.
WELCOME TO THE FIRST NEXT GEN RAIL SHOOTER!
Using Kinect for Xbox One motion detection capability, Blue Estate offers previously unmatched immersion into the mafia world of Los Angeles, packed with humour, original gameplay and incredible fun.
In Blue Estate you will play Tony Luciano, the psychopathic son of the Italian mafia godfather of LA and Clarence, an ex-Navy SEAL, penniless and now a hit-man bent...
Genre: Action,
Platform: PC, Xbox One, PlayStation 4, Nintendo Switch, Xbox, PlayStation 2,
Capcom's riveting samurai adventure returns! This version includes the original game's intense swordplay and dramatic revenge story, plus a host of enhancements. Improved controls allow players to move and fight with analog-stick precision. The crisp, high-definition visuals support 16:9 widescreen as well as the original 4:3 resolution display. A new soundtrack brings the feudal Japan setting to life with an air of authenticity and intrigue. Experience this enhanced version of the best-selling...
Genre: Action, Indie,
Platform: PC, PlayStation 4,
Death's Gambit is a challenging Action-RPG where you explore an alien medieval planet filled with beasts, knights, and horrors. As an agent of Death, bound to his service, you must banish your fears and endure the struggle that lies at the heart of Leydia. Master the precise combat, strategically plan out your attacks, and face-off against terrifying creatures that reach to the skies. Use an arsenal of weapons and abilities to explore the unforgiving lands, rich with secrets and twisted characters...
Genre: Action, Role Playing, Shooter,
Platform: PC, Xbox One, PlayStation 4,
Experience an original story where you are the protagonist in the world of Gun Gale Online. Create your own avatar and explore devastated lands while experiencing exciting third person shooting in this action RPG. Encounter enemies and run into new and familiar faces from the Sword Art Online series.
Journey through a world of guns where after a chance encounter you'll gain the help of a very rare AI, ArFA-Sys.
Along the way, you will have to make choices.
But every choice comes with a price…
Will...
Genre: Action, Shooter,
Platform: PC,
F.E.A.R. Perseus Mandate is an action-shooter game developed by TimeGate Studios. It came out on 06-11-2007. It was published by Sierra Entertainment. Most rawgers rated the game as "Recommended". You can play F.E.A.R. Perseus Mandate on PC.

...
Genre: Action, Simulation, Shooter,
Platform: PC,
A neutral family fights for its business - and its survival - and is swept up in the struggle against the encroaching Empire. You must defy the strong-arm tactics of a rival family who will stop at nothing to destroy your trading company. Ultimately, you will join the Rebel Alliance for a series of covert assignments and uncover information about the Empire's second Death Star project. The finale? You'll find yourself at the controls of the legendary Millennium Falcon , flying against the...
Genre: Adventure ,
Platform: PC, macOS, Linux,
Eliot Ness, the former leader of the legendary Untouchables, wished only to spend the rest of his days working in his diner, not dwelling too much on the cesspit of corruption his city, Santa Esperanza, had degenerated into.But things rarely go as planned.When children suddenly start to disappear and the police just simply a blind eye, Eliot decides to take the law into his own hands, track down the culprit and bring him to justice by any means necessary, even if he has to abandon his dreams of a...
Genre: Action, Role Playing,
Platform: PC,
Sea Dogs is an epic role-playing game for the pirate in all of us. Return to the age of sail as a young captain looking to make a name in the world. Develop your character from humble beginnings and rise to control all of the islands for your country or yourself. You can give your allegiance to one of three countries or choose to serve only yourself as a swashbuckling pirate. Build your wealth and reputation and use it to acquire bigger ships and better crewman. Hire other captains to join you in...
Genre: Adventure , Action, Strategy, Simulation, Indie,
Platform: PC, macOS, Linux,
You don't get your Christmas bonus and the only logical thing to do is go on a rampage at an Office Holiday Party. Welcome to Party Hard 2, the Stealth Strategy game you've been waiting for! With a brand new engine and art-style, Party Hard 2 expands Hitman-style gameplay of the original game with brand new features.Some of the upcoming new gameplay features: Take out multiple targets at the same time with a powerful Multi-Kill abilityScan the room for useful objects and targets with Party VisionYou...
Genre: Action, Arcade, Shooter,
Platform: PlayStation 3, PS Vita, PSP,
Purchase this PS one® Classic and play it on both your PS3™ and PSP® (PlayStation®Portable) systems!Attack in any direction: Reverse, sideways, stop and hover, dive, barrel roll, loop, even Immelman turn! You get full flight control! Use devastating firepower to decimate the opposition using rockets, multi-fire swarmers, plasma cannons and more! Engage in 6 hot zones with over 25 areas of high engagement. Lock and load! Download this PS one® Classic today!Transferring to a PSP® system from...
Genre: Adventure , Action, Role Playing, Strategy, Indie,
Platform: PC, Xbox One, Nintendo Switch,
Weave your own thread through this epic Viking RPG adventure with the Banner Saga Trilogy. Guide your caravan across the landscape of a breaking world, where the sun has stopped in the sky and the gods are dead. Bold leadership decisions, wise use of resources, and skillful battle tactics are vital to ensure that you and your clans make it through alive.
- Beautifully hand drawn combat sequences and animations, accompanied by an evocative score from Grammy-nominated composer Austin Wintory, will...
Genre: Adventure , Action,
Platform: PC, PlayStation 3,
The Way of the Samurai series is widely renowned for allowing players to make far-reaching decisions that can radically alter the course of the story and this, the fourth entry in this thrilling series and previously exclusive to the PS3, is no exception! Now all the sword wielding action, adventure and drama of the Way of the Samurai series comes to PC for the very first time, continuing the series' blend of customization, exploration, action gameplay and quirky humour.Way of the Samurai 4 takes...
Genre: Action, Shooter,
Platform: Xbox, PlayStation 3, PlayStation 2, GameCube,
In Medal of Honor European Assault gamers play as US Army Lieutenant William Holt, hand-picked by William "Wild Bill" Donovan to be the first field agent of the newly formed Office of Strategic Services -- the OSS. As Lieutenant Holt, your classified missions take place in WWII Europe and are of critical importance to the Allies. You are tasked with gathering intelligence regarding the development and deployment of the deadly Nazi Tiger Tank and more significantly, stopping the Nazi plan to develop...
Genre: Adventure , Action, Indie,
Platform: PC, Xbox, PlayStation 2, GameCube, Game Boy Advance, Game Boy Color,
Ginka, the beautiful officer, is on the local SWAT team by day. But at night, she becomes the Silver cat. And with incredible agility, unbelievable sensitivity and amazing ability, she roams the city like batman. Accidentally, she was informed that the famous gem 'Emerald Queen' was stolen. In order to get it back, she blended into the infamous Kurobara's mansion. But to her surprise, she got trapped by a notorious SM dominatrix who's crazy about whipping, bondage, shocking and wax-dripping....
Genre: Adventure , Role Playing, Indie,
Platform: PC, iOS, macOS, Linux,
The Detail, a crime noir adventure in a modern American city.Controlling the actions of a bitter veteran detective investigating a brutal gangland murder and a reformed criminal trying to protect his family, the player is forced to make tough choices and deal with the resulting consequences of those moral dilemmas. The gameplay focuses on branching narrative mixed with interactive comics, and is completed by a professional audio track.The Detail combines the emotional impact of Telltale Games' The...
Genre: Adventure , Action, Role Playing, Indie,
Platform: PC, macOS, Linux,
Dragons and Titans is a fast paced MOBA with classic RPG elements, where your champions are Dragons and a variety of game modes gives you the power on how to play. Show true courage and skill to become the ultimate Dragon Lord as you embark on your quest to free your Titan from captivity.Select from over 30 unique dragons and 30 legendary weapons, each with unique abilities and progression levels. Take your battle to the next level by upgrading your dragons as you gain experience and improving your...
Genre: Adventure , Action, Shooter,
Platform: PC, Xbox One, PlayStation 4,
HITMAN Sniper Assassin is a stand-alone experience that embraces the core elements of a HITMAN game, as seen through the sniper scope of Agent 47. Prepare for HITMAN 2 and enter the World of Assassination today through this sniper mission that tasks you with eliminating an international gang of thieves.
The entire mission takes place with Agent 47 perched in a sniper nest, overlooking a lush Chateau and its surrounding gardens during a lavish wedding ceremony. You choose how and when to manipulate...
Genre: Adventure ,
Platform: PC, macOS, Linux,
Enter the virtual world of Under A Killing Moon, where it is December 2042, and you, as Tex Murphy, must stop the forces of evil before they destroy mankind and rob you of your next unemployment check. This thrilling and hilarious adventure is unlike anything you've seen before.The graphics quality, the fascinating, believable characters, and complete freedom of movement will make you feel like you've actually walked through the screen and become the main character in a rich, intriguing mystery movie.Access...
Genre: Action, Strategy, Shooter,
Platform: PC, PlayStation, Game Boy Advance, Classic Macintosh, Dreamcast,
Tom Clancy's Rainbow Six: Rogue Spear is an action, shooter and strategy game developed by Red Storm Entertainment and Ubisoft Milan. It was originally released in 1999. Red Storm Entertainment published the game. Most rawgers rated the game as "Recommended". You can play Tom Clancy's Rainbow Six: Rogue Spear on PC, Dreamcast, PlayStation and Classic Macintosh. Bill Brown scored the game. ...
Genre: Adventure , Action, Simulation, Indie,
Platform: PC,
WARNING: This video game may potentially trigger seizures for people with photosensitive epilepsy. Player discretion is advised.IMPORTANT NOTE: The game focuses on exploration and builds tension slowly to create a deeper and more meaningful experience. Its story is unveiled through surreal imaging and subtle environment details. Be mindful that it is a difficult game in unconventional ways.Visage is a first-person psychological horror game.Explore a mysterious ever-changing house in a slow-paced,...
Genre: Action, Role Playing,
Platform: PC, Xbox One, PlayStation 4,
Sired in an act of vampire insurrection, your existence ignites the war for Seattle's blood trade. Enter uneasy alliances with the creatures who control the city and uncover the sprawling conspiracy which plunged Seattle into a bloody civil war between powerful vampire factions.
♞Become the Ultimate Vampire
Immerse yourself in the World of Darkness and live out your vampire fantasy in a city filled with intriguing characters that react to your choices. You and your unique disciplines are a...
Genre: Adventure , Action, Indie,
Platform: PC,
Imagine that you are a young beautiful girl with a tasty body, and it can mean only one thing – you're perfect for… Human sacrifice for an ancient god! Try to get out of the labyrinth with a help of your teammates. Avoid traps that awaits you on your path. Banish a devilish creature back to where it came from.Key features: - The atmosphere of a bygone era of horror movies of 60's - 80's.- Gameplay based on stealth- Realistic physics of women's breasts and butt- Character customisation- Partially...
Genre: Action, Casual, Indie,
Platform: PC, macOS, Linux,
"It's insane, fast paced, and action packed in a way that's fun, and tactical." Spifferino, Steam User"Can be enjoyed by both casual and competitive gamers." Skyrunes, Steam User"I've really enjoyed playing this game through different versions to watch it evolve and once it's finished it's going to be a really fantastic game." Liamdawe, Gaming on LinuxBallistic Overkill is a fast paced PvP shooter. Easy pick up and play, no complicated setups or rules: it's kill or be killed!Over 80 weapons7 Classes10...
What is the plot of The Order: 1886?
Developer: Sony Interactive Entertainment, Ready At Dawn
Publisher: Sony Interactive Entertainment
Platforms:PlayStation 4,
The Order: 1886 is an action adventure game developed by Ready At Dawn.
Set in alternate Victorian England, the story revolves around the Order of the Knights of the Round Table. Hundreds of years ago, the mutants which resemble a human/animal hybrids start to appear. The order uses a substance called the Black Water that allows the knights to live forever without growing older and regenerate their wounds. The conspiracy involving the high ranks of the Order is uncovered. It is your job to investigate.
The Order features is a third-person shooter. The game features a cover system where the player locks into cover with the ability to peek out and shoot. The players walk through multiple linear levels fighting humans and mutants. The Protagonist is equipped with different types of weaponry such as automatic rifles, grenades, and pistols. Melee attacks are also useful in the game as they can be used in order to silently kill an enemy. Quick time events are heavily used in the game. There are a lot of collectibles scattered around the levels that provide more lore in the game.
↓ READ MORE