50 Best Games Like RaceRoom Racing Experience You Should Try in 2022
Trying to find games like RaceRoom Racing Experience? Try these 50 great games that are similar to RaceRoom Racing Experience, but stand out in their own awesome ways. This is a comprehensive list of best games like RaceRoom Racing Experience that have been tried, tested and recommended.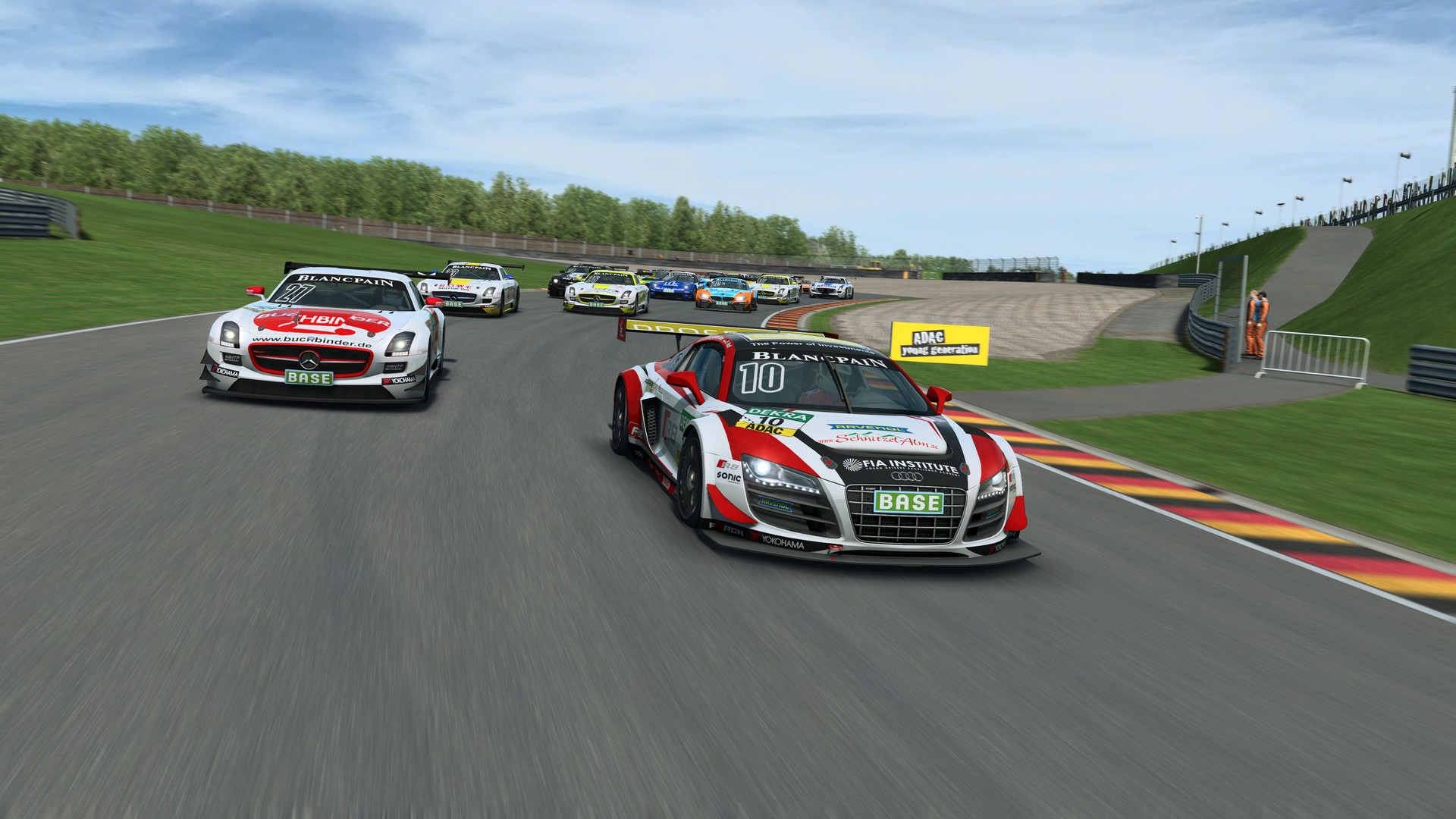 Content:
Best Games Like RaceRoom Racing Experience
50 Best Games Like RaceRoom Racing Experience You Should Try in 2022 Burnout Paradise: The Ultimate Box,Need For Speed: Hot Pursuit,Need For Speed Undercover,Table Top Racing: World Tour,FlatOut,Forza Motorsport 5,American Truck Simulator,Project CARS 2,RACE 07,Hard Truck Apocalypse / Ex Machina
Genre: Arcade, Racing,
Platform: PC,
Burnout Paradise: The Ultimate Box is an extended version of the original Burnout Paradise game. The game offers action racing that sometimes resembles the demolition derby in an open-world setting of Paradise City. The game has a remarkable damage system that improves the whole experience and interrupts monotonous moves across the city, which is free-to-explore for the first time in a series. With The Ultimate Box edition, developers added day/night time cycles and dynamic weather system, so graphics...
Genre: Action, Sports, Racing,
Platform: PC, iOS, Android, Xbox 360, PlayStation 3, Wii,
Need For Speed: Hot Pursuit is an arcade racing game, where you complete missions switching between a police officer and a racer. While the goal is the same - to reach the finish first, the game allows trying another side of races as you need to stop a lawbreaker in the police part of the game.
Unlike typical racing titles, Hot Pursuit follows the principle that "all is fair." That's why both sides have special tools to stop the opponent. You can throw spikes on the road or use turbo...
Genre: Action, Racing,
Platform: PC, Nintendo DS, PlayStation 3, PlayStation 2, Wii,
Need For Speed Undercover is a racing game and the twelfth installment in the twenty-four-title long series of the same name.
Gameplay
Almost every Need For Speed game features the same gameplay features, and Undercover is no different. There is an open world which is permitted to discover at any time in contrary with, for instance, Most Wanted, where the environment was zoned, and the locations opened as the story progressed.
The car collisions system has become more realistic compared to the previous...
Genre: Racing,
Platform: PC, Xbox One, PlayStation 4, iOS, Nintendo Switch,
Table Top Racing: World Tour is a racing simulator with the emphasis on its cartoon-ish style of toy cars. The genre is already well-established, and the game continues to use ordinary mechanics for entertainment and replayability.
The player can choose between different upgradeable cars, and compete in four different championships. Each map is a racing track in an utterly non-racing environment, such as a kitchen table, children's playroom and so on. Different race types make the player consider...
Genre: Arcade, Racing,
Platform: PC, Linux,
Flatout is the racing game with a heavy focus on destruction and associated with the drivers tearing out the front windshield. It is the first part of the tetralogy, followed by the three sequels and one remaster.
Gameplay
The game consists of two modes: survival and racing. The goal of the racing part is pretty much the same as in any game of its genre: to reach the finish through the variety of lap tracks. The one to finish the route first wins. There are always eight players on the map with the...
Genre: Action, Simulation, Racing,
Platform: Xbox One,
Forza is a long-running series of racing game that took a standard formula and adds several personal touches. Realistic and bright car designs, energetic soundtrack, and racetracks that will test the driving skill of every player.
Forza 5 was brought to the players with 200 different cars from more than 50 manufacturers and brands, and after the initial release, there were eight monthly car packs. Each of them consisted of 10 cars and could be purchased as DLC. Each car can be individually upgraded...
Genre: Simulation, Indie,
Platform: PC, macOS, Linux,
Game mechanics are based on the highly successful model from Euro Truck Simulator 2 and have been expanded with new features, creating the most captivating game experience from SCS Software.American Truck Simulator puts you in the seat of a driver for hire entering the local freight market, making you work your way up to become an owner-operator, and go on to create one of the largest transportation companies in the United States.Features Drive highly detailed truck models officially licensed from...
Genre: Racing,
Platform: PC, Xbox One, PlayStation 4,
• 180+ licensed cars from iconic manufacturers
• Full 12K & VR Support
• Tested and tuned by pro racing drivers
• All-new motorsports (IndyCar, Oval Racing, Rallycross) join old favorites incl. GT3
• LiveTrack 3.0: Dynamic surface & weather physics affect vehicle performance and handling in real-time
• New loose surface racing (ice, dirt, mud)
• Full 24-hour cycle featuring real-time atmospheric conditions and seasonal ambience
• State-of-the art physics model
• Revamped...
Genre: Racing,
Platform: PC,
Race 07 is a realistic racing simulator from the Swedish studio SimBin. The game is a continuation of Race - The Official WTCC Game, released in 2006. As in the first game, the licensed World Touring Car Championship (WTCC) is also available here. There are almost no changes in the game, in comparison with the previous part.
The game has more than 300 cars, divided into 9 classes, and 14 tracks placed around the world. The calendar of the game mimics the racing season 2006/2007 and includes two...
Genre: Action, Role Playing, Arcade, Racing,
Platform: PC,
In a post-apocalyptic wasteland of diesel and dust, bandits and mobsters rule the last remaining cities, controlling all vital trade routes and destroying any hope of a return to a lawful world. It's up to you, as the driver of a heavy transportation truck, to blast through the mayhem and deliver needed supplies to desperate towns. Your life depends on being the ultimate offensive driver, while making sure to keep your truck in top operating and fighting condition. It's kill or be killed in the world...
Genre: Sports, Simulation, Racing,
Platform: PC, Xbox 360, PlayStation 3,
Make history in FORMULA ONE™! Experience all-new 1980s classic content plus all the cars, stars and circuits from the 2013 FIA FORMULA ONE WORLD CHAMPIONSHIP™ in F1™ 2013. F1 2013 includes F1 Classics, an expansive new game mode introduced by legendary broadcaster Murray Walker, where you'll race famous cars from Ferrari, Williams and Lotus against icons of the sports including Nigel Mansell, Mario Andretti and Gerhard Berger. Classic content also includes two historic circuits – Brands...
Genre: Sports, Simulation, Racing,
Platform: PC, Xbox One, PlayStation 4,
DiRT Rally 2.0 dares you to carve your way through a selection of iconic rally locations from across the globe, in the most powerful off-road vehicles ever made, knowing that the smallest mistake could end your stage.
You will need to rely on your instincts with the most immersive and truly focused off-road experience yet, including a new authentic handling model, tyre choice and surface deformation.
Power your rally car through real-life off-road environments in New Zealand, Argentina, Spain, Poland,...
Genre: Sports, Simulation, Racing,
Platform: PC, Xbox 360, PlayStation 3,
Codemasters Racing presents F1 2012, the next game in the BAFTA-winning series featuring all the official drivers, teams and circuits from the 2012 FIA FORMULA ONE WORLD CHAMPIONSHIP™. Learn the basics and master the challenge of driving the best machines on the planet in the Young Driver Test.
Experience the next generation in weather system technology where storm fronts move across the circuits, soaking specific areas of the track, as well as racing around the all-new Circuit of The Americas...
Genre: Sports, Simulation, Racing,
Platform: PC, Xbox 360,
BE THE DRIVER....LIVE THE LIFE Experience the exclusive world of FORMULA ONE™ like never before. Discover what it's like to sit behind the wheel of the world's greatest cars as you race wheel to wheel on all 19 circuits from the 2010 FIA FORMULA ONE WORLD CHAMPIONSHIP™ calendar, beautifully realised and in full HD. Prove yourself worthy of being the team's number 1 and gain the ability to direct the development of your car. Work with your Race Engineer to customise...
Genre: Simulation, Indie,
Platform: PC,
In Bus Driver, your job is to transport passengers around an attractive and realistic city. You must drive to a timetable on a planned route, whilst obeying traffic rules, and taking care not to upset or injure your passengers. This makes Bus Driver unlike any other driving game - the experience of driving a bus is very different from blazing through a racing circuit.
Bus Driver offers twelve different kinds of buses to drive, an expansive city environment with various districts, and thirty routes...
Genre: Action, Strategy, Simulation,
Platform: PC, Xbox 360, PlayStation 3, PS Vita, PSP,
Wings of Prey is based around the large-scale aerial combat and ground military operations of World War II. Players can participate in some of the war's most famous battles piloting fighters, battle planes and bombers across a range of thrilling missions. There are six theatres of war to engage in – The Battle of Britain, Stalingrad, Ardennes, Berlin, Sicily and Korsun' representing the main airborne battles of World War II in Europe.
Wings of Prey also boasts an all new damage effects engine...
Genre: Simulation, Racing,
Platform: PC, PlayStation 3, PS Vita,
Show off your style and win the FIA WORLD RALLY CHAMPIONSHIP 2013 season!
Experience the 2013 season with the drivers, cars and courses of the WRC, WRC2, WRC3 and, for the first time, Junior WRC championships. Take advantage of an improved graphics engine and unprecedented realism that lets you develop new driving styles on surfaces that are more lifelike than ever. Play online against your friends morning, noon and night on one of the 78 available courses, each tougher than the last.
• The official...
Genre: Sports, Racing,
Platform: PC, Xbox 360, PlayStation 3,
Feel the power of new turbocharged FORMULA ONE cars in the most accessible FORMULA 1 video game yet. F1 2014 features all the cars, drivers and circuits from the 2014 FIA FORMULA ONE WORLD CHAMPIONSHIP, including new tracks in Russia and Austria, the return of the Hockenheimring in Germany and the 2014 FORMULA 1 GULF AIR BAHRAIN GRAND PRIX which ran at night for the first time in 2014. A new driver evaluation system which tunes the game to your level, shorter career options, refined handling and...
Genre: Arcade, Sports, Simulation, Racing,
Platform: PC, macOS, Xbox, PlayStation 2, PSP,
TOCA Race Driver 3 takes the variety of motorsport experiences available in "Race Driver 2" and expanding on it even further, so no matter what your taste in racing, you'll find something to suit you. Featuring the British GT championship, series stalwarts the DTM and Aussie V8 Supercars, Sprint Cars, Rallying, and open wheel racing all the way from karts to the BMW Williams Grand Prix Cars, and much more TOCA Race Driver 2006 has something for everyone. Race on tracks from all over...
Genre: Sports, Simulation, Racing,
Platform: PC,
The Game That Revolutionized the Racing Genre.The successor to the international award-winning racing simulation GTR accurately represents the challenges of Motorsport racing. The detailed, photo-realistic depiction of these powerful cars and beautiful circuits, thanks to the graphics technology, and the enhanced driving model will make your adrenaline rise in one of more than one hundred HP-beasts.Beginners can start with the driving school where they are taught the basics of race driving by a professional...
Genre: Sports, Simulation, Racing,
Platform: PC,
Return to the Days Of ThunderThe golden age of motor sports has returned. Experience one of the world's most exciting racing series in GT LEGENDS, including the legendary touring cars of the 60′s and 70′s. Collect more then 90 original FIA GTC-TC team vehicles and demonstrate your driving skill on real European racetracks.GT Legends was announced summer 2005 and presented to media with a response that was overwhelming. The only concern expressed by the media present at the time was that they...
Genre: Action, Racing,
Platform: PC,
Two Engines. One Champion. No Limits.

Climb on, strap in, and experience the pure adrenaline-pumping excitement of the Podracing sequence from Star Wars: Episode I The Phantom Menace.

Take the controls as Anakin Skywalker, or any one of over 21 Podracers, and feel the full-force blast of two massive jet engines at simulated speeds of up to 600 mph. Rein in a turbine-driven chariot through 8 spectacular worlds. Negotiate through flaming methane lakes, Tusken Raider assaults, ant-gravity tunnels...
Genre: Simulation, Racing,
Platform: PC, Xbox One, PlayStation 4,
Take your place in the GRID World Series and fight in thrilling wheel-to-wheel battles with the most iconic and desirable race cars – current and classic, from GT through Touring and Muscle to Stock and Super Modifieds – and in some of the world's most iconic locations. GRID captures every moment of the race, from the adrenaline rush of lights-out to the elation at the chequered flag – and in-between, it's all action too.
Incidents come one right after the other – tight overtakes, bumper-to...
Genre: Sports, Simulation, Racing,
Platform: PC,
COPA PETROBRAS DE MARCAS is the new release from Brazilian developer Reiza Studios, simulating one of the main series of Brazilian motor racing.

Petrobras, as the title sponsor of the competition and strong supporter of the sport offers the Game as a free download for all gamers and racing fans alike!

This official game reproduces the thrill of competing wheel-to-wheel with 300 HP, FWD touring car models from various automakers in some of the main Brazilian race tracks such as Interlagos, Curitiba...
Genre: Sports, Simulation, Racing,
Platform: PC, Xbox One, PlayStation 4,
Sébastien Loeb Rally EVO brings off-road racing to a whole new level of simulation and engagement. It will enable you to drive the best rally cars from the past up to the present day in the most exciting off-road events across the globe. Sébastien Loeb Rally EVO stems from a desire to give the gamer a driving experience that is more realistic than any other. Thanks to the support and feedback of the 9 times world champion Sébastien Loeb, this title will enable you to fully experience rally and...
Genre: Action, Racing,
Platform: PC,
In the 21st century, the world is occurred by Resource Wars, as the Earth's oil supplies are being exhausted. The conflict ends with nuclear strikes. The civilization is almost exterminated. The effects of the war do not fade for the next hundred years and as a consequence, anarchy and chaos control the world. Without any laws the survivors are ruled by a criminal totalitarian system. To control people and entertain them the leaders of this system organize deadly races.

As one of the racers...
Genre: Action, Arcade,
Platform: PC, iOS, Android,
War is raging, pilot! Are you ready for surprise attacks, intricate tactical maneuvers and the many sneaky tricks your rivals have in store for you? Destroy enemy robots, capture all the beacons, and upgrade your weapons to increase your battle robot's combat strength, speed and durability. Prove yourself in each map and use different strategies and tactics to emerge victorious in battle.The renowned iOS and Android hit is coming to Steam! Fight other Pilots from all over the world and join millions...
Genre: Adventure , Action, Casual, Massively Multiplayer,
Platform: PC,
Metro Conflict: The Origin takes place sometime in the near future where two factions wage war with each other in order to gain dominance over the world. It is a story of mercenaries caught up in the storm of battle. - There are 12 mercenaries each with unique character models, weaponry, and character specific skills. Playing and mastering each character offers fun and exciting experience for players. - In collaboration with various FPS game development veterans, we've focused on the core...
Genre: Action, Racing,
Platform: PC,
Like its predecessors, Crash Time 3, the new installment of the well-known action racing game series, offers varied gameplay in top quality. The German game forge Synetic has once more taken the graphics engine a significant step further. In a gorgeous game world, completely explorable on wheels, the player gets to solve gripping criminal cases and master other diverse assignments. An overview of essential innovations in Crash Time 3: Completely reworked Story Mode: The previously published...
Genre: Racing,
Platform: PC,
RACE On brings you the epic WTCC 2008 season down to the smallest detail and now YOU get the chance to show the world who the real champion is. The RACE On Expansion Pack includes the Iconic Detroit Muscle cars suited for those who like to lay down lots of rubber power sliding out of corners on the rev limiter. Enough torque to drag the moon off orbit, full opposite lock and a big grin on your face. Or you can try your hand at the Formula Masters, a top of the line open wheel series, offering you...
Genre: Action, Racing,
Platform: PC,
Gas Guzzlers: Combat Carnage

Gas Guzzlers: Combat Carnage is a fast-paced addictive combat racing game for the PC. The game features many different vehicles, weapons, upgrades, on-track bonuses as well as distinctive and astonishing environments. The player starts with a low-performance vehicle and gradually works his way up by earning money in a series of challenging races.With an initial amount of money,the player buys his first car without upgrades.

The game is run through the series of events\challenges...
Genre: Racing,
Platform: PC,
Xpand Rally is a breathtaking game that gives you the true to life experience of driving powerful rally cars amidst photorealistic sceneries. Realistic weather effects, rolling hills, and animated scenery all add to game's visual perfection. Xpand Rally also features highly detailed models of modern rally cars and handling physics developed with the help of rally sport professionals which further enhance the realism of driving experience.

Xpand Rally combines the best elements of Rally and Rally...
Genre: Action, Arcade, Racing,
Platform: PC, macOS,
MegaRace 2 is the sequel to 1994's combat racing smash hit and is once again developed by Cryo Interactive. The sequel included several upgrades such as fully rendered 3D cars, new weapons, and track shortcuts.

MegaRace 2 also features the return of eccentric MegaRace host, Lance Boyle (played by actor, Christian Erickson, of "Hitman" fame). In MegaRace 2, Lance is joined by a stunning female co-host whose name keeps changing. MegaRace 2, was the first entry in the series, to allow players to fire...
Genre: Racing,
Platform: PC,
Every race is different in Ignite. Each race brings something new as players try to win by using their own tactics. The score system in Ignite allows for tactics to be used during a race. Gathering score allows the use of nitro in the race and converts to time bonus at the end. So short term usage of nitro can help the players get out of situations ahead of the others but using a lot of nitro and thus score may cost him the game. There are different methods of gathering score (drafting, hitting...
Genre: Sports, Simulation, Racing,
Platform: PC,
AUTOMOBILISTA puts you in the driving seat of one of the most advanced racing simulators and delivers a uniquely diverse motorsports experience!As the natural successor to Reiza Studios´ previous title - the highly regarded Stock Car Extreme, originally released in 2013 - AUTOMOBILISTA continues to simulate the premium Brazilian racing series such as Stock Car V8, Copa Petrobras de Marcas, Formula 3 Brasil and Mitsubishi Lancer Cup, now packing every car and every track from their respective 2015...
Genre: Sports, Simulation, Racing,
Platform: PC, Xbox One, PlayStation 4,
The most complete MotoGP™ game ever! Valentino Rossi The Game allows you not only to compete in the 2016 season but also with past MotoGP™ champions, giving you the chance to relive the most important stages of the career of the 9 times world champion. Join Valentino Rossi's VR|46 Riders Academy, start your debut season in Moto3™ and be ready to compete in all motorsports categories Valentino will invite you to compete in. The Flat Track races at the MotoRanch, the drift competitions at Misano...
Genre: Action, Casual, Sports, Racing, Indie,
Platform: PC, iOS,
Bike Rush is an action shooter race with rapid road gunplay. The whole game is like a scene from action movie. You can play in VR to get more realistic game feel! Play using keyboard/gamepad, VR headset + keyboard/gamepad or VR headset + hand motion controllers to get full experience!GameplayBike Rush is the first person bike shooter. You should reach the finish as soon as possible, controlling your motorcycle to avoid crashes. Use nitro and ramp jumps to break through the cop blockages! Destroy...
Genre: Sports, Simulation, Racing,
Platform: PC,
SummaryrFactor is a realistic easily extendable racing simulation from Image Space Incorporated. It offers the latest in vehicle and race customization, great graphics, outstanding multiplayer, and the height of racing realism. rFactor features mixed class road racing with ultra realistic dynamics, an immersive sound environment and stunning graphics.You can race against a field of AI cars, or in multi-player mode against others. The simulation supports a full day-night cycle. In multi-player mode,...
Genre: Racing,
Platform: PC,
RACE Injection is the final chapter in the RACE 07 series of games, ending the award winning series on a high note.RACE Injection contains 23 new unique car models and boasts 9 new tracks from across the globe. RACE Injection collects the most requested content in five distinct classes: Formula RaceRoom class, GT Power class, Retro – historic class and the official STCC and WTCC 2010 classes.This full retail game which includes all that's needed to get racing in anything from cool historic cars...
Genre: Racing,
Platform: PC,
Feel the rush of motorcycle racing with Ducati World Championship. Select your machine from over 70 original Ducati models, perfectly simulated replicas of the real thing. With Ducati World Championship you don't have to settle on one model - you can have them all!
Ducati World Championship features more than 70 superbly modeled motorbikes from 4 different categories — Classics, Sports, Road and Grand Prix. There are over 34 exciting circuits to race on with an incredible amount of extras to unlock....
Genre: Racing,
Platform: PC,
Xpand Rally Xtreme shows the true climate and conditions of rally racing. Dangerous, technical tracks, based on the world's hardest special stages full of moguls,jumps,grooves and tight hairpins.
By winning races amass funds for faster cars and repairs. The player also has the ability to mechanically tune their cars by increasing parameters such as turbocharger efficiency,fitting sports breaks and suspension kits and more. ...
Genre: Racing, Massively Multiplayer,
Platform: PC,
We are the world's premier computer based motorsports racing simulation/game. An iRacing.com membership provides entry into the newest form of competitive motorsport: internet racing. Internet racing is a fun, easy, and inexpensive way for race fans, simracers and gamers alike to enjoy the thrill of the racetrack from the comfort of their home. iRacing is available for Windows and Linux based computers as well as Mac's.We are the ultimate place to go racing online. From NASCAR, to IndyCar, Aussie...
Genre: Casual, Simulation, Racing,
Platform: PC, iOS,
Autobahn Police Simulator is the first simulation to realistically reflect the working life of a police officer on the German Autobahn. In numerous and diverse operations the player is responsible for enforcing law and order on Europe's fastest roads.In addition to the 40 missions revolving around the daily duties of the Autobahn Police, one can enjoy the extensive "Free Play" mode. This mode generates random radio calls for operations which the player is free to accept. All in all, this mode...
Genre: Simulation, Racing,
Platform: PC, Xbox One, Nintendo Switch,
For bikers, there are two types of speed races: the Isle of Man TT and the rest. No other race is as gruelling for the motorbikes and demanding for the riders. Take up the challenge of the Snaefell Mountain course: all 37.73 miles faithfully reproduced with the champions and their bikes.
110 years of history have made TT a motor racing legend. Memorise each section of the course, round each bend to perfection, keep your concentration throughout the 6 laps, get the best time and write your name alongside...
Genre: Sports, Racing,
Platform: PC,
Experience the 2003 season of the FIA GT Championship first-hand on your PC as you test your skills against over 50 opponents on all the legendary race tracks the FIA GT visited that year.Developed by racing professionals, GTR is a true milestone when it comes to racing games."Key Features:Realistic AI racing behaviorLive track : the characteristics of the track change over the course of the race week-end3 gameplay modes for beginners, advanced and simulation professionalsOver 50 different racing...
Genre: Action, Racing,
Platform: PC,
Go back in time and experience "The Fabulous Fifties" in a game that relives the period, vehicles and street races of the legendary 50´s films. Customize your car and compete in 8 different race modes, through five completely different 50´s themed areas and become the King of the Road!

For many years, street racings have been popular around Sierra Lake, one of California's most famous cities. Flashy cars driven by skilled racers, with lots of money at stake and of course beautiful girls...
Genre: Sports, Simulation, Racing,
Platform: PC,
FURIDASHI: Drift Cyber Sport is a motorsport simulator for PCs running on Windows platformCompetitions in drifting as Players vs Players cyber sport challenge. This is a real-time online multiplayer simulator with unique next gen realistic car physics.Enter to the world of drifting and move to be the best! Buy the cars! Upgrade your skills! Customize and tune the cars! Take a part in different competitions on the tracks around the world! Challenge your friends and other real players! ...
Genre: Racing,
Platform: PC, Xbox One, PlayStation 4,
NASCAR Heat 2 brings the most authentic and intense stock car and truck racing of all time. Test your driving skills across 29 NASCAR sanctioned ovals, road courses, and the infamous dirt track, Eldora Speedway. Race as the biggest names in motorsports with the largest roster of drivers in NASCAR video game history. Take the racing online against a full field of drivers in rolling seasons as you battle for the top spot on the leaderboards. Back by popular demand, battle it out with a friend in...
Genre: Racing,
Platform: PC,
The Official WTCC Game | RACE is the first ever game to be focused on the hard hitting, intense action of the exciting WTCC championship which is exploding in popularity all over the world. Based on WTCC, one of only three official FIA world championships next to Formula 1 and WRC, RACE features the complete WTCC championship season of 2006, all the cars, drivers and locations, including several official tracks and cars brand new to the racing game genre. The game recreates the championship as...
Genre: Racing,
Platform: PC, Xbox One, PlayStation 4,
NASCAR Heat 4, the official video game of NASCAR, looks, sounds, and plays better than ever!

New Features - Track Maps, Unlockable Paint Schemes, Dynamic User Interface, More Driving Control Options, Deeper Career Mode, Sonoma Raceway & Charlotte Roval Track Updates

New Graphics & Sound - Complete overhaul of all graphics and audio packages

Draft Like a Pro - Team up and draft with other drivers with the drafting features

Smarter, Competitive AI - The AI now runs multiple racing lines...
What is the plot of RaceRoom Racing Experience?
Developer: Sector3 Studios
Publisher: RaceRoom Entertainment AG, Sector3 Studios
Platforms:PC,
Genre: Sports, Simulation, Racing,
RaceRoom Racing Experience is a free-to-play racing simulator. It houses official race series such as DTM, WTCC and ADAC GT Masters, but to get access to all content players are bond to excruciating grind. It can be avoided by paying for each little piece in the in-game currency that players purchase for the real money.
Simulation in this game is on the point: developers worked with real racecar drivers to fine-tune the small details such as tyre modelling and suspension physics. You can compete using with bots in singleplayer sessions and fight real racers during multiplayer ones on 25 real-world tracks. The park of cars consists of major brands: BMW, Mercedes-Benz, Audi, Chevrolet, Ford, McLaren, Pagani, RUF, Radical, Volvo, Saleen and developers plan to enlarge it. To properly feel the speed players might need a gaming wheel: the game still supports all kinds of inputs, but the most compelling experience is with the wheel.
↓ READ MORE